This is my heartfelt review of a life changing Christmas Day experience.
This is what happened.
My Christmas morning started about 7am. There are no little children in this house to wake me; no teenagers to summon from their beds.
All my preparations paid off and I was quickly on the road to a friend's home.
We drove together to the location of the Gold Coast Community Christmas Lunch. Not to be guests, rather to volunteers.
We signed in – along with 126 others – and pinned on our name tags.
We listened to the welcome & introduction from Sue and her son Cam. They stood within many of the donations. The donated food had already been prepared and was now cooking…This amazing mother and son due  started this luncheon 10 years ago.
We tried hard to memorise the menu.
We had volunteered to assist with transport. A vehicle was needed for a lady guest with a wheelchair. We stepped up…it was to be a long drive but we didn't mind. Being able to help was why we signed up. Off we went…
Some ninety minutes later we returned with our little flock of 3. We had happily chatted away to them in the car, played Christmas Carols…and generally tried to bring happiness to their circumstances.
Upon arrival we were assisted in getting the mama into her wheel chair and now with her adult daughter and our Kiwi guest we reentered the hall.
Clearly everyone had been really busy while we were away. The tables were arranged with their chairs. Cutlery, crackers and cheerful place mats were to be seen in row and row…
Having the ladies settled my friend went off to park her van. I headed in the direction of bottled water and returned to the table to find them all excited about everything going on around them.
Then I left them to head for this line…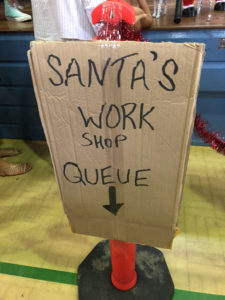 I put in a request for 3 presents. While I waited for the elves to find just the right gifts I listened to…Elvis.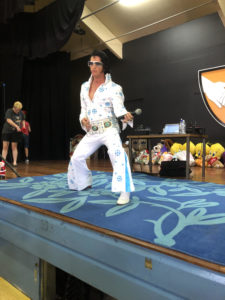 All the entertainers donated their time. Indeed it is worth noting that EVERYTHING was donated. There's a list below.  I live in an extraordinarily generous community. Most of us have no idea this sort of thing is going on.
This is truly the GOLDEN aspect of our Gold Coast.
Reciting the menu, pretty much accurately, we established who wanted what and I headed off to the food line.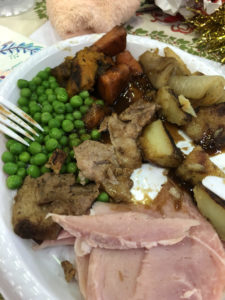 I saw my friend here there n everywhere as she used her tireless energy to assist where needed, when asked or when she simply observed. A special lady well versed in perceiving needs and simply stepping up. She blessed many lives on this day.
I sat with our guests. 'Those you bring you give to'  We had been told 'give give giving' was the theme for the day. I am better at conversation, drawing people out. Caring as I listen….so the sitting with the flock suited me. The day provided service/caring opportunities in many ways.
I cut up mama"s food (turns out she is 98) took photos for her daughter, watched them soaking up every moment.
Our Kiwi lady was quietly enjoying the moment. We talked back n forth.
Suddenly a tap on the shoulder and a new guest was ushered into the seat next to me.
This lady shared  with me how she had thought she would be spending the day alone. Surprise…you're not!
She wept on my shoulder as she shared with me the heart breaking loss of her mother earlier in the year. She spoke of other trials and sadness. Battling with huge changes in health & circumstances she really needed this special event. I received several hugs and willingly returned them.
With some cold water, gifts, and a delicious meal the new guest was soon settled.
Clearly suffering loneliness she would break off eating to talk with me about…different aspects of her day to day life. She again hugged me. Wiped back tears. Clapped her hands in delight. My heart melted. Again.
Loneliness is a terrible condition. So often overlooked. It is easier to address than hunger…yet so often we cannot see it.
When it was time to head south with our original flock, I found it more difficult that I can explain to simply get up and leave her. This 4th guest. I didn't want her to be alone. I saw another volunteer and quickly explained  She nodded and slipped easily into my chair…
This year the large hall catered for 600 guests. It was hot and noisy. Plus Elvis singing through it all…guests plus 126 volunteers plus Committee members in their donated identifiable t-shirts. Quite a crowd.
Mostly though I could feel the love. The spirit behind the call to Give.
A Few Facts
Donations: (there was not obvious advertising)

All Soft drink, water, gifts, puddings, custard, plates, cutlery, napkins, gifts, meat, vegetables, gravy, decorations, gifts, ice, chairs, tables, bai-maries, bbqs, high chairs, eskies, gifts, vouchers, wrapping paper, sticky tape and an abundance of gifts. Remember, all this for well over 600 people
Plus
Kingsley Rock – who did the most amazing 90 minute Elvis show. Such energy…
The children's entertainers were so lovely – balloon artistry at its best, glitter tattoos, face painting and of course Santa and his helper – who distributed 1500 candy canes in no time.
Miss Australia and Miss Teen Gold Coast were on hand to help welcome guests – a touch of glamour.
5 of the most generous, hardworking, incredible hairdressers EVER! They seriously did not stop for 4 hours. Outdoors, on concrete with clients in hard plastic chairs – but not one moment of complaint. Just beautiful, love, care and attention that they would have shown any paying customer.
Aldo medical staff – thankfully they were not in high demand, just a few cases of heat exhaustion. But having them on the team is so important.
The kitchen team – ably led by Chef Thomas (back for year 7 – legend!) Pumped out more food than in 4 hours than most restaurants would in a week.
And just when the guests thought it was over there were free Frosty Boys for everyone as they left.
The 126 volunteers all worked tirelessly to ensure that every guest had all of the love, fun, food and attention  that they could wish for.
The volunteers included restauranters, nurses, chefs, engineers, mechanics, students, business owners, social workers, mums, travellers, artists, politicians, tradies, nuns and retailers. All working side by side for a common goal – Giving!
How deeply grateful I am for the experience. I struggle for the words….
The whole thing, every little moment linked together made a complete experience that reached to my heart and moved me.
It changed me.
My goals for this year stemmed from it…passion fills my voice when I talk of it.
We took our 3 lovely guests home. They were different from the morning trip.
They spoke of everything they had received…the food they had eaten…the gifts they held….the love they felt. Plus most interestingly, the hope they felt we bought to them.
That for me, was the icing on the cake. To know someone felt hope…more hope.
We did not tell them of what they had given us….
For me, Christmas will never be the same again. Ever.
Now I really understand about giving the true gifts of Christmas.
Gifts that cannot be wrapped. Cannot be held.
Only shared…and given.
Who gave? Who received?